UNSOLVED HOMICIDE IN EAST BRUNSWICK IN 2007
June 19, 2012
On April 12, 2007 at approximately 3:22 p.m. Frank Lagano, of Tenafly New Jersey was found shot to death outside the Seville Diner which is located on Route 18 in East Brunswick, NJ. The Middlesex County Medical Examiner ruled the death a homicide. Frank Lagano was co-owner of the Seville Diner.

See the link from the East Brunswick Sentinel about this investigation.
If you have any information please contact Middlesex County Crimestoppers.
Story from the East Brunswick Sentinel
---
UNSOLVED HOMICIDE IN NEW BRUNSWICK ON APRIL 7, 2008
June 19, 2012
Monday, April 07, 2008
The body of a New Brunswick man reported missing 11 days ago was found today near a Dumpster outside his apartment building, but authorities yesterday had little information about the victim.
A passerby reporting finding Christopher Higgins, 51, behind the Dumpster at 100 Memorial Parkway about 9:45 a.m., Middlesex County Assistant Prosecutor Nicholas Sewitch said. Higgins was pronounced dead at the scene.
He declined to comment on the condition of the body and said investigators were awaiting results of an autopsy to discover the cause of death.
A sister reported Higgins missing March 28, Sewitch said.
Higgins had worked at a Panera Bread restaurant in North Brunswick.
The prosecutor`s office is asking that anybody with information about Higgins to contact Middlesex County Crime Stoppers.
---
Unsolved Homicide in the City of New Brunswick
September 19, 2011
On August 6, 2011 at 1:56AM the New Brunswick Police Department recived a call about gunshots near the intersection of Remsen Avenue and Suydam Street. Witnesses told the dispatcher that they saw a man laying on Remsen Avenue at the corner of Suydam Street. The victim, Jesse Simons, died of a gunshot wound. The Middlesex County Prosecutors Office and the New Brunswick Police Department obtained video from local businesses and developed three persons of interest seen in the area before the shooting. The attached flyer contains photographs of those persons.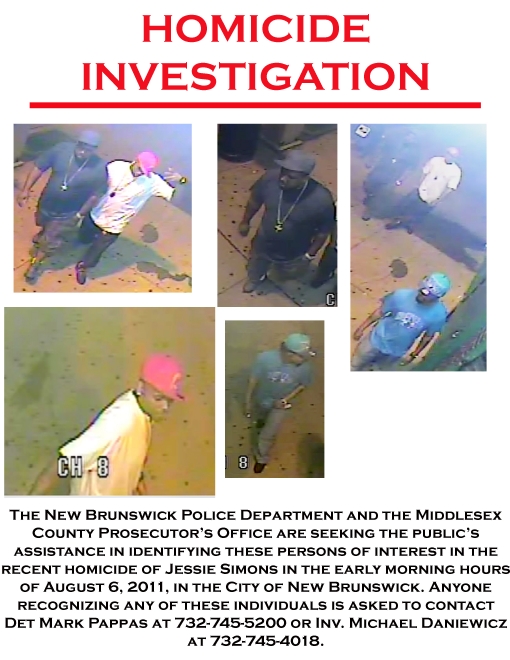 ---
PERTH AMBOY MAN FOUND MURDERED IN NEW BRUNSWICK IN 1992
June 28, 2011
On November 25, 1992 the body of a Hispanic man was found slumped in the front seat of a Ford pickup truck sometime after 8:00 pm in the Sears Parking lot located on U.S. Route 1 South in New Brunswick. A police officer from the New Brunswick Police Department was on routine patrol when he discovered the victim slumped down in the drivers seat of the truck which was parked facing the highway. Upon further investigation the officer determined that the person in the truck was dead and summoned investigators to the scene.
The victim wa identified as Raul A. Torres, a resident of Perth Amboy. The medical examiner determined that Raul Torres was Murdered at this location while seated in his truck.
Raul Torres was the owner of Torres Trucking located in the City of Perth Amboy. On November 25 in the evening hours Raul left his residence after telling a realtive he was going to meet someone. Raul never told the realtive where he was going or who he was going to meet. Raul was discovered Murdered later that evening.
---
UNSOLVED HOMICIDE IN THE CITY OF NEW BRUNSWICK ON NOVEMBER 8, 2009
June 24, 2011
A 60-year-old New Brunswick man was the victim of a fatal stabbing in the city on November 8, 2009. Mohammed Jabbie of New Brunswick was identified as the victim of the stabbing shortly before 12:03 a.m. Police received a 911 call and were dispatched to an address on Remsen Avenue in New Brunswick close to the intersection of Hale Street.
Investigators determined that Mr. Jabbie was visiting a friend and was stabbed outside the friend's house when he was confronted by a group of unknown persons. Mr. Jabbie was taken to Robert Wood Johnson University Hospital in New Brunswick, where he was pronounced dead at 2:33 p.m. on November 8,2009.
NJ.COM News article
---
UNSOLVED HOMICIDE IN THE CITY OF NEW BRUNSWICK IN 2003
June 15, 2011
On Thursday November 20, 2003 Travis DiCapua, 23, of Hoover Street, Edison was shot and killed in New Brunswick.
(Photo from NJ.Com news article)
Travis was with a group of friends at Marita`s Cantina in New Brunswick and left the bar around closing time. The group walked to the area of Paterson Street and Spring Street where their cars were parked. Travis and a friend went into one of the small parking lots and were confronted by a group of men standing next to a four door black Honda. A witness told the police that they saw one of the men take a handgun out of the trunk of the black Honda. Words were exchanged between the group, Travis and his friend.
During the course of the argument the witnesses heard two gunshots. Both Travis DiCapua and his friend, Jason "Jay" Redecki had been shot. The three males got into the black Honda and fled the area on Paterson Street toward George Street.
Travis and Jay were taken to Robert Wood Johnson University Hospital where Travis was pronounced dead. Jay sustained a gunshot wound and was admitted. An autopsy determined that the cause of death was a single gunshot wound to the chest and abdomen.
News Article
---
UNSOLVED HOMICIDE IN THE CITY OF PERTH AMBOY
June 14, 2011
On 10/29/1991 Ruth Jacobson was discovered by her brother in her High Street home in the City of Perth Amboy.
(CLICK ON IMAGE TO ENLARGE)
A live in nurse had gone to the residence to stay with Ruth Jacobson for the evening. The nurse had knocked on the door of the High Street residence in the early afternoon. When Ruth Jacobson did not answer the nurse went to the victims brother`s residence to have him let her into the house. The brother, Murray Jacobson, and the nurse entered the house and discovered the victim laying on the floor. The victim was fully clothed and was laying in a pool of blood on her bedroom floor. The victim had been beaten to death with her own cane. The victim was murdered between 4:25PM and 6:30PM.
The Middlesex County Medical Examiner had determined that the cause of death was blunt force trauma. Several tips and leads were sent to the investigators with none leading to an arrest or conviction.
BRUTAL MURDER OF 92-YEAR-OLD ACTIVE VOLUNTEER OUTRAGES PERTH AMBOY
TOM HAYDON
The brutal beating and strangulation of a 92-year-old Perth Amboy woman who dedicated so much of her life to helping others evoked feelings of outrage and anger yesterday among community leaders. Police said Ruth Jacobson, whose body was found Tuesday evening, was beaten with her own cane and strangled in her home at 99 High St. Her brother, Dr. Murray Jacobson, also of Perth Amboy, found her body on a bedroom floor about 6:30 p.m., Middlesex County Prosecutor Alan Rockoff revealed yesterday. News of Jacobson`s death spread quickly among community organizations she had served.
``It`s really unfair. She really truly lived. She was the epitome of our goals,`` said Michael Shapiro, executive vice president of the Jewish Federation of Greater Middlesex County. To mark Jacobson`s 90th birthday in 1989, the federation established the Ruth Jacobson Woman of the Year Award. ``The honor was to show the very place Ruth Jacobson had in our heart. She was a remarkable woman,`` Shapiro said. It was only one of many honors she had received. Jacobson was known for keeping an active schedule, even in recent weeks. Last Thursday, she attended a meeting of the Middlesex County Kiddie Keepwell Camp Board of Directors. She served on the board, which operates a camp for underprivileged children, for more than 60 years. Rockoff said Jacobson, whom he described as a ``very frail`` woman less than 5 feet tall, was ``bludgeoned`` with her cane, which was left in splinters. Her head was ``in a pool of blood,`` the prosecutor said. Second Assistant Prosecutor Thomas Kapsak said an autopsy by the Middlesex County Medical Examiners Office determined the cause of death as ``manual strangulation.`` The victim`s right arm was broken and she had several broken ribs, he said. She also had suffered numerous blows to the head. Rockoff said Jacobson`s purse, containing a ``sizable amount of money,`` was found in the bedroom. Kapsak said he would not characterize the house as being ransacked, but it was evident an intruder had been in the home. He declined to be more specific. ``We are not ruling out any motive. At this time we are asking the public to let us know if anyone saw anything strange in the area from 4 p.m. to 6:30 p.m.,`` Rockoff said. The victim had paid companions who stayed with her almost around the clock, according to the prosecutor. One companion left the house about 4:25 p.m. Tuesday and another was scheduled to arrive about 6:30 p.m.
A funeral service for Jacobson, a life-long resident of Perth Amboy, will be conducted today at 1 p.m. in the Congregation Shaarey Tefiloh at 15 Market St. Jacobson was a member of the Perth Amboy Local Assistance Board, now the Welfare Board, for 50 years and the Central New Jersey Jewish Home in the Somerset section of Franklin Township, of which she was a founder. The victim was the widow of Isadore Jacobson, who died in 1969. He was a co-founder of the Jacobson & Goldfarb real estate and insurance firm, which was started in Perth Amboy in 1920. In 1938, the firm became Jacobson, Goldfarb & Tanzman. The company discontinued providing insurance service in the late 1960s and moved to Woodbridge six years ago. A second company, Jacobson, Goldfarb & Scott, conducts an insurance business in Woodbridge. Perth Amboy Mayor Joseph Vas, who lives on the same block as the Jacobson family, called the crime ``gruesome.`` ``It`s not the kind of crime you read about in Perth Amboy, but it`s the kind of crime that goes on across the country,`` Vas said. ``This just has everyone upset,`` said another High Street resident, who declined to be identified. ``It`s hard to think about,`` she said. The tree-lined street on which Jacobson lived is in one of the oldest sections of the city and is distinguished by large, attractive houses. Barry Rosengarten, a nephew of the victim and the owner of The Armory restaurant in Perth Amboy, was one of several relatives who gathered yesteday in Murray Jacobson`s house. Rosengarten said the family was not issuing a statement concerning the murder. Ruth Wurtzel, who lived next door to the victim for more than 60 years, called her ``a very generous, wonderful, charitable person who was interested in everything that was good for Perth Amboy.`` Wurtzel said Jacobson had a ``fine security system`` in that companions were with her most of the day. ``She drove up until a couple of years ago,`` said George Cohen, co- president of the Perth Amboy YM-YWHA. ``I took her to meetings recently,`` he added. Shapiro recalled seeing Jacobson at a board meeting of the Central New Jersey Jewish Home on Oct. 15. ``Our conversation was not tempered to her age at all,`` he said. ``She combined a keen and acute intellectual analysis and was able to package that in a wonderful, communicative way.`` Prosecutor Rockoff said all of Jacobson`s companions had been with her for years and she considered them part of her family. The prosecutor said there were no signs of forced entry to the house, and spring locks on the front and rear doors had been locked when Jacobson`s brother arrived about 6:30. The prosecutor said the locks could have been set by someone leaving the house. Deadbolt locks on both doors were not latched, Rockoff said. The prosecutor said Jacobson was too short to see through the security peek-hole in the door, and it was possible she had let somebody in the house. ``She felt comfortable in her home,`` he said. Rockoff said it appeared the victim had been preparing dinner for herself when the intruder entered. Relatives said Dr. Jacobson had visited his sister earlier in the day. The victim was valedictorian of the Perth Amboy High School Class of 1916 and was a graduate of the Newark State Normal School. She was a fourth-grade teacher in the Perth Amboy school system for five years. A past president of Hadassah, she was selected the National Hadassah Woman of the Year in 1986. She served on the Counsel of Jewish Women, the Community Chest in Perth Amboy, the Jewish Family Service, the Raritan Bay Medical Center Auxiliary and many other charitable organizations. She was a member of Congregation Shaarey Tefiloh and Sisterhood, and Temple Beth Mordecai and Sisterhood in Perth Amboy. In addition to her brother, she is survived by a sister, Rae Rosengarten; six nieces and nephews; 14 great-nieces and great-nephews, three great-great- nephews and one great-great niece. Interment will be in Mt. Lebanon Cemetery in Iselin. The family will sit shiva today through Monday in her brother`s home. Arrangements are being handled by the Flynn & Son Funeral Home in Perth Amboy.
---
UNSOLVED HOMICIDE IN THE SAYREVILLE TOWNSHIP
June 14, 2011
Nancy Noga was reported missing to the Sayreville Police Department on January 7, 1999. Nancy`s body was discovered on January 12, 1999 in a small wooded area near her home. The cause of death was ruled to be blunt force trauma. Nancy was a 17 year old high school senior at the time of her murder. She was last seen leaving her job at the Rag Shop in Old Bridge at approximately 6:00PM on the date of her dissappearance. Nancy was discovered wearing a purple "Arizona" jacket, jeans and a sweater. At this time the case remains unsolved and investigators are still pursuing any new leads.
If you walk into the police department and many stores in Sayreville, New Jersey you can still see flyers and posters hanging from the walls with the picture of a girl named Nancy Noga. January 7th 1999 seventeen-year-old Nancy Noga left her job for the night. Normally a 15minute walk to her family`s apartment but on this night she never came home. Her death shattered the quiet suburb of Sayreville New Jersey. Dan Bowens enters the Tape Room and revisits this case with Middlesex County prosecutor Andrew Carey and Sgt. Scott Crocco. Please listen to the below link for more information about this crime.
https://audioboom.com/channel/the-tape-room
CBS News story on the 12th anniversary of Nanacy Noga`s death
---
UNSOLVED HOMICIDE IN THE CITY OF NEW BRUNSWICK ON JUNE 17,2006
June 10, 2011
On June 17, 2007 the New Brunswick Police Department and the Middlesex County Prosecutors Office investigated a Murder that took place in the area of Senior Street and Easton Avenue. At approximately 1:53 AM the victim, Offie Dennis, and a group of friends were walking on Senior Street when a person in a blue vehicle, which was passing by, began fired a gun at Dennis and his friends. Dennis was struck and killed. The blue vehicle fled the area toward Easton Avenue.
If anyone has any information on this crime please submit a tip through this website.
(CLICK ON MAP TO ENLARGE)
Article about the Murder of Offie Dennis
---
UNSOLVED HOMICIDE IN WOODBRIDGE TOWNSHIP ON MARCH 24, 2010
June 07, 2011
On Wednesday March 24, 2010 James Clement was found murdered inside his home on King Georges Road in the Fords section of Woodbridge Township. Mr. Clement was an 82 year old retired war hero who lived alone. He was believed to have been killed during the daytime hours of March 24. There was no forced entry to the home and it is believed that Mr. Clement allowed his killer or killers into his home. The motive for the killing appears to be robbery.
If you have any information on this Homicide please submit a tip through this site.
Mar 27, 2010 1:01 am US/Eastern FROM CBSNEWS.COM


Police In Woodbridge Say 82-Year-Old Suffered Blunt Force Trauma But Neighbors Say They Didn`t See Anything At All


The murder of an elderly New Jersey man had police and his neighbors baffled on Friday night.

The 82-year-old lived alone, making him vulnerable to what officers think was a deadly home invasion.

James Albert Clement took long morning walks every day. But neighbors noticed a suspicious break in that routine Thursday. A friend could not reach him and called police. Officers went inside and found Clement`s body with blunt force trauma to the head.

"This should never happen to any living thing," neighbor Pamela Giulias said.

"Maybe somebody was watching an old man come in and out of the house, an easy target," neighbor Lambros Schiadaresis said.

Schiadaresis wants justice for his friend, who he said lived alone in the house after his wife died several years ago. He said Clement survived tours of duty in the Vietnam War and a tough job driving a truck every day delivering oil, only to be murdered in what police suspect was a home invasion robbery.

"Why pick on an old man that can`t hurt nobody? They didn`t have to kill him. They could tie him up, taken what they want to take and that`s it," Schiadaresis said.

It is not known if Clement was targeted or a victim chosen at random.

Neighbors said they did not see anyone come to the house or hear anything unusual but one thing struck them as odd: The front door was open early in the day before the body was found and they said Clement always kept this door shut, even posting a sign "back door only."

"He never uses the front door, never," neighbor Tom Shaw said.

"Something was not right from the very beginning," Giulias said.

A neighbor recalled seeing a safe in Clement`s house, a detail that police would not confirm, but one that could provide a motive for this senseless crime.

Clement is survived by a son who lives in Delaware and a daughter who lives in Pennsylvania. They are now in Woodbridge as the search for suspects continues.
---
UNSOLVED HOMICIDE IN THE CITY OF NEW BRUNSWICK IN OCTOBER OF 2009
June 02, 2011
On October 19, 2009 Todd Averette was the victim of a Murder. Mr. Averette was discovered sitting in the driver seat of his vehicle on Maple Street in the City of New Brunswick. Witnesses told the police Mr. Averette was last seen alive at this same location on 10/18/2009 sitting in his car. A video captured the image of a male wearing a hooded sweatshirt with the hood over his head carrying what appears to be a bag in his hand walking quickly up Maple Street om 10/18/2009 and turning onto Somerset Street going toward Franklin Township.
If anyone has any information on this Homicide Investigation please submit a tip through this website.
(Click on the image to enlarge)
NJ.COM Article
---
| | | |
| --- | --- | --- |
| Page 5 of 5 | 91 Records | Prev | Next |